Latham Fiberglass Swimming Pool Installer
As a proud Latham Fiberglass Swimming Pool Grand Dealer, Lakeside Pools & Spas ON offers every pool option available from Latham, so you can find the perfect pool to complement your personal style, design, and backyard size. Latham is a leading manufacturer of remarkably sturdy fiberglass pools made of millions of interlaced glass fibers and reinforced with a durable polyester resin coating to provide years of family fun and relaxing enjoyment.
Why Choose a Latham Fiberglass Swimming Pool?
Are you looking for a top-quality, long-lasting swimming pool? Look no further than Latham Fiberglass Pools! Build with cutting-edge composite technology results in a stronger and more durable product than traditional fiberglass pools. Plus, the easy installation process makes adding a swimming pool to your home a breeze!
Not only do Latham pools provide years of enjoyment for you and your family, but they also add value to your home. So make the smart investment today - choosing a Latham pool is an investment you won't regret!
Check out the different pool models & styles here!
Benefits of a Fiberglass Pool
Fiberglass pools are one of the leading types of swimming pools in North America are for a reason. When you understand the facts, it's easy to see why Latham's fiberglass pools are the best choice for your home.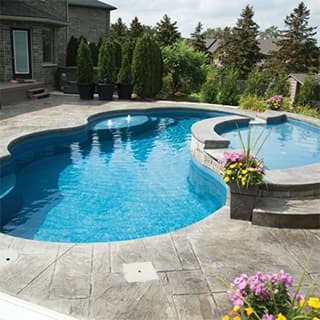 It's Quicker & Simpler to Install a Fiberglass Pool
They are built off-site and can take three to six weeks to install. Concrete pools take three to six months to assemble and must be done in fair to decent weather, with ideal temperatures, and without rain or snow.
Fiberglass Pools Are Less Expensive and Easier to Maintain
Fiberglass pools have a gel coat that inhibits algae growth, making it easier to keep the pool clean at a lower financial cost. Concrete pools must be acid-washed every few years and, in some cases, resurfaced, whereas vinyl liner pools require their liners replaced on average every seven to eleven years.
Fiberglass Pools Are Less Expensive and Easier to Repair
Fiberglass pools require the least expensive long-term care and come with a lifetime guarantee. Non-abrasive surfaces distinguish fiberglass pools. The gel coat of a fiberglass pool protects against algae growth and is very smooth to the touch. Your body parts won't get scratched as they would in a concrete pool.
Fiberglass Pools Are Better for Saltwater Systems
Saltwater pools are becoming increasingly popular for customers who prefer environmentally sound products. Fiberglass pools are the perfect choice for anyone that would like to use a saltwater system in their pool. While all saltwater pools must maintain good water chemistry for sanitation and bather comfort, these systems severely damage concrete pool surfaces. Many sea-going vessels and boats are constructed of fiberglass because it is entirely saltwater friendly.
ICC Endorsement Makes Building Permits Easier
A pool's construction must adhere to strict codes set by the International Code Council (ICC). A certification from the International Code Council Evaluation Service (ICC-ES) allows you to apply for building permits for your pool. Only the best products have achieved the ICC-ES seal of approval. Latham Pools are one of them.
Limited Lifetime Warranty
A Latham pool is designed to endure a lifetime of carefree enjoyment and security. A limited lifetime warranty covers the structure and surface of the pool. When you choose a Latham pool, you will benefit from having all the expertise of a well-respected market leader in the pool industry throughout your pool's life.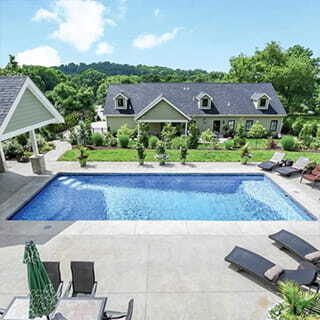 Latham's Advanced Composite Technology
Here is a breakdown of Latham's Fiber Glass technology.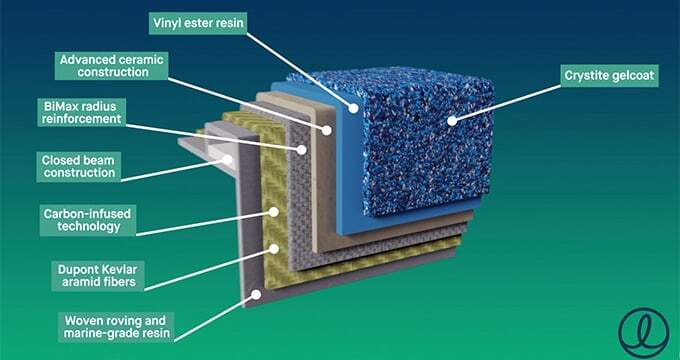 1. Crystite Gelcoat
Latham Pools gelcoat is engineered and created to resist fading, staining, and scratching. It has provided the industry's most beautiful and long-lasting swimming pool surface in its most popular color hues for over 25 years. You can now enjoy the glistening of the exclusive G3 finishes, which add a touch of glitter to your pool.
2. Vinyl Ester Resin
Latham's resins are formulated to prevent corrosion while providing exceptional flexibility, durability, strength, and impact resistance.
3. Advanced Ceramic Construction
The resin is infused with ceramic particles for greater hardness and durability.
4. BiMax Radius Reinforcement
This material's tight weave and direction of fibers within it give the pool shell a great deal of strength.
5. Carbon-infused Technology
Carbon fibers have the greatest compressive strength of any reinforcement material and can be used to make carbon fiber composite kayaks, planes, yachts, automobiles, and spacecraft!
6. DuPont Kevlar Aramid Fibers
Kevlar combines high strength, toughness, and thermal stability in demanding industrial and advanced-technology applications used in the aerospace and military industries for decades.
7. Woven Roving and Marine-grade Resin
The strength of the pool shell is significantly increased by woven roving.
8. Closed Beam Construction
The closed beam design offers unrivaled strength and stiffness.
Check out the different pool models & styles here!
Request In-Ground & On-Ground Pool Consultation
Are you considering adding a pool to your home this summer? If so, Latham Pool Installation Consultation from Lakeside Pools & Spas is the perfect way to get started. Our team of experts will meet with you to discuss your specific needs and budget, and help you determine the best type of pool for your home. We also offer a free on-site consultation to answer any questions you may have. Contact us today to schedule your consultation!